Island Studs - Surfing Naked and Jerking Out in Public!
Muscle Jock Brock is Back! Surfer Brock, the nudist college muscle jock, is BACK and looking better then ever - paddling out to catch some waves totally naked in tropical Hawaii for Island Studs! This popular football athlete, now 27 years old, standing 6'3", and weighing 220 lbs, is looking better then ever. His muscle thighs, white football butt, thick naturally-hairless body, low-hanging nut sack and fat dick look even BIGGER than in his first two films for Island Studs! Beautiful blue eyed Brock strips off his board shorts at a popular surf beach out in public for ALL to SEE! Watch this sexy Hawaiian surfer take a LONG PEE on the black sand beach while holding his favorite surf board! If you are a PISS lover, Brock's outdoor horse piss is NOT TO BE MISSED! Watching this real naked surfer enter the water and climb onto his surf board fully NUDE is a delight! Look at Brock's white muscle butt on his surfboard baking in the hot Hawaiian sun! Sexy jock Brock is super HOT! At the end of this surf session Brock climbs onto the jagged lava rocks and poses with this surf board, fully wet and naked! Look how sexy this college boy looks napping on a raft as he floats around the pool for our cameras. Feast your eyes on Brock's beautiful muscle butt dripping with water when he flips over to tan his white ass! After his rest in the pool, Brock sits down on the outdoor balcony and starts to jerk his big FAT dick. Watch this handsome football jock tug on his heavy ball sack as he strokes his rock hard cock! If you like watching real amateur thick smooth college boys jerking off outdoors - do NOT miss Brock's lengthy JO session for Island Studs! This Stud LOVES to play with his Big BALLS! Listen to the long MOAN from Brock as he releases a THICK HEAVY LOAD of boy juice all over his tan ripped surfer abs! Brock jumps into the outdoor shower to clean up! Watch as Brock soaps up his perfect round football butt for the camera. You can see his heavy nut sack dangling between his wide ASS CHEEKS as he washes his feet! This is one of our sexist and most sensuous shower scenes yet! Thank you Brock, for stripping naked for us and taking us surfing! Brock is one sexy Island Stud that is not to be missed!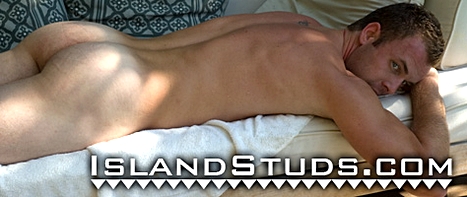 Did "Surfing Naked and Jerking Out in Public!" make your cock hard?
Added: Sep 16, 2013 12:23am
Views: 7,343
Ratings: 1
Favorited: 0
Records: 2257

Recently Rated