Teach Twinks - Brock Landon & Robbie Anthony
If my teachers had been as hot and hunky as Brock Landon I would have gladly given up my ass to get the grades I needed! Robbie Anthony knows how to change that unreasonable F into something more suitable, and it means sucking on Brock hard muscle cock and getting his own dick licked before he lets the hunk fuck him in the butt! That deserves an A+ in my opinion!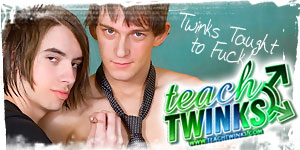 Did this video generate desire, a chubby or make your cock fully erect?
Added: Jan 29, 2013 6:50pm
Views: 3,331
Ratings: 18
Favorited: 1
Records: 2257

Recently Rated