Teach Twinks - Alex Dade, Dillon Samuels, Kameron Scott & Blair Mason
Don't act surprised that these frat boys built their own gloryhole box--what else are they going to do, study? Alex, Blair and Kameron stuff superstar twink Dillon Samuels into their homemade gloryhole box and give him only one way out... sucking them all off! Dillon, like a champ, sucks those cocks until all three boys cum in his mouth.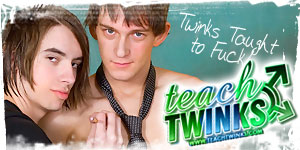 Check Out Our Guys Live On Cam!!
Desirability
Added: Jun 5, 2012 1:37pm
Views: 9,684
Ratings: 13
Favorited: 0
Records: 2257

Recently Rated