UnGlory Hole - No BullShit - Only Good Head!!
Jayden is just cruising the aisles for some porn when we come up to him with a proposition. Who would actually turn down a blow job from a hot chick? Well it took some convincing to get this guy in the back room, but after seeing her tits and face, he was convinced and ready to get sucked off. After sliding his dick through the hole, his dick goes into the mouth of a man. Unluckily for Jayden, he stuck his dick in the wrong hole.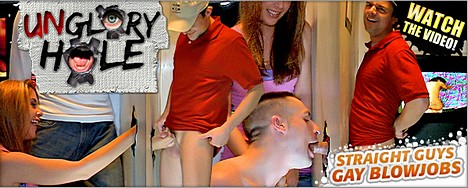 Check Out Our Guys Live On Cam!!
Desirability
Added: Sep 30, 2011 6:56pm
Views: 11,419
Ratings: 3
Favorited: 0
Records: 2257

Recently Rated