Colby Knox - Colby Chambers, Junior Fernandez & Mickey Knox
Live with Junior Fernandez: Junior Fernandez was definitely a favorite here at Colbyknox, amongst models and fans alike. This gay porn new release features him doing another candid free-flowing live performance with Colby Chambers and Mickey Knox. The three are definitely familiar with each other at this point and nobody wastes any time getting started. Although Junior is the guest, Mickey insists on being served first. He takes Colby's rock hard throbbing cock into his ass with pleasure as he feasts on Junior's man meat. Doesn't take long before southern hospitality takes over and the boys focus their attention to their guest. Colby bends him over the same way he had Mickey and goes to town moaning and growling in pleasure the way he does. Mickey switches into top mode pretty fast after watching the faces of pleasure on his husbands face as he take Juniors ass. Junior Fernandez saddles up and rides the hell out of Mickeys cock while they both moan and enjoy each others hard sexy bodies. This video is a good reminder of what a gorgeous and talented performer Junior Fernandez really is.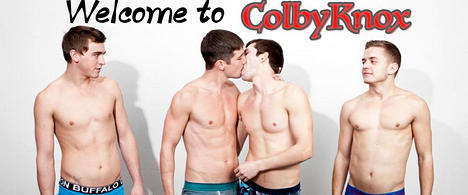 Check Out Our Guys Live On Cam!!
Desirability
Added: Jan 12, 2018 11:13pm
Views: 1,436
Ratings: 4
Favorited: 0
Records: 2257

Recently Rated