Lollipop Twinks - Yann Ryan & Michael Hampton
Curious Boys Innocent Fun! Yann gets an unexpected visitor when hung young Michael arrives for some great fun! We would all love to have either of these boys unexpectedly arrive at our door for some fun! Yann is home alone when hung young Michael knocks, and soon he's invited in for some exploratory fun! You can see Yann isn't used to sucking cock, but he loves the taste of that big uncut dick! His smooth little ass gets some talented licking from Michael which has his cock blasting out cream, almost without warning! That's all Michael needs to see and his own long dick is splashing hot juice all over the boy's rump. It's innocent oral fun between two gorgeous boys, just as is happening right now all around the world.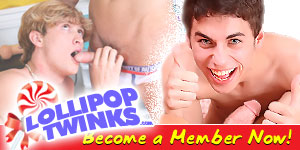 Check Out Our Guys Live On Cam!!
Desirability
Added: Oct 11, 2017 11:09pm
Views: 918
Ratings: 2
Favorited: 0
Records: 2257

Recently Rated