RetroMales - Taz, Roy King, Clint Werner, Tony Montana, Bruce Jorn & Kim
The New Marines Part Two: Toby Ross produced this film directed by Butch Detroit. In this vintage gay sex video, foul-mouth photographer Clint Werner films a cast of hung, sex studs. Hung "lover" Bill Marlowe joins Clint in fucking his other half, pale and very boyish Ricky; preppy Jason Proust, club kid-like Douglas Wright, and boy-toy Jason Butler share a three way; and Clint does a gorgeous, pretty German tourist, eating his ass and foreskin. Dick-measuring by four humpy recruits prove gays have the bigger cocks; a four-man orgy features huge, eight-inch and nine-inch hard-ons, hearty blowjobs, and a stream of highly erotic, kinky sex talk. Japanese sergeant (Kim) plugs a great-acting, blond sex-pig (Taz) between the bars of his cell; and a heterosexual shoves his face into ass for the first time (maybe)! One Bijou reviewer wrote: A fantasy film by Butch Detroit, a protege of director Toby Ross, about Bill Clinton lifting the military gay ban in the 1990s, which includes actual footage of the U.S. Congress. The gays outnumber the heterosexuals -- who rather enjoy this situation -- in this well-written story of wanderlust, coming out, and horniness. Highly original, if a bit gloss-free and clumsy, this film creates sexual tension immediately and presents effective characterization as the plot unfolds. The plot focuses on five marines, four gay and one straight, bunking together. Baby-faced Taz previously saved the life of the straight dude (well-hung Roy King), and is in love with him. To demean King, the other three have a dick-measuring contest to prove gays have bigger cocks. The Japanese-American sergeant (Kim) catches them in the act and takes them away to the stockade. What follows are three long sex scenes: the following barracks orgy, the sergeant with Taz, and Taz with his love. The four-man orgy is the longest scene, featuring huge eight- or nine-inch hard-ons pushing their way out of uniforms, and a stream of highly erotic, kinky sex talk spewed from drooling mouths. Also, "ethnic" Tony Montana and Bruce Jorn play the bottoms to the other two men, rimming, double-sucking, and getting butt-fucked all over the room. The Japanese-American sergeant plus the great acting sex pig (Taz) in the stockade scene, with Taz taunting the man until he finally gives in -- and ends by blowing a wonderful nine-spurt load! The straight dude shoves his face into ass for the first time in the video's finale with Taz. King explodes his man-loving load while sitting over Taz's face in a 69 position. Dialogue from this scene: "Taz: I feel frozen in ice. King: Let me thaw you." Stars a cast who at once display lust, uninhibited sexuality, and proof that doing time for Uncle Sam would be so bad! Originally released in 1993; digitally remastered in 2014 by Bjiou Video. "From the cock-measuring contest scene to the oh-so-penetrating sex in the stockade scene to the barracks orgy scene to the climactic pas de deux between an experienced gay dogface and the formerly straight buddy whose life he saved in Desert Storm, director Butch Detroit -- do you think he's French? -- has put together a galvanizing tribute to unstoppable sexuality both in an out of uniform, and cast is a juicy, spectacularly well-endowed melange of young men." - New York Native "At first glance, The New Marines appears to be nothing more than another amateur video; but almost at once, the sexual tension starts percolating, real characterizations emerge, and sexually propelled plot line unfolds. The lighting is harsh and the hand-held camera work seems haphazard; but again, almost at once, the viewer begins to realize that the videocam is sticking its snout into smoe truly remarkable places and capturing the action in ways so logical and yet so inventive that one knows the man in charge must have an instinctual feel for the genre, if not the polished technique." - Manshots, December 1993 "If you have a fetish military fetish, or just a weakness for men in uniform, this video will be quite a treat." - Gay Chicago, July 22-August 1, 1993 "The entire cast does a great job. Despite the fact there are only three distinct sex scenes and no cumshots for the first 45 minutes, I was never bored. Watch it just for the performance of blond, endearingly dopey-looking Taz, The moment when Taz innocently looks his cigar-chomping sergeant in the eye and accuses him of having 'cocksucker lips,' we know we're in for something. Taz makes one of the great video debuts of all time, proving himself an enthusiastic, filthy-mouthed bottom with an enormous amount of presence - true star material." - Dave Kinnick, Men, August 1993. Year Released: 1993. Studio: Bijou. Director: Butch Detroit.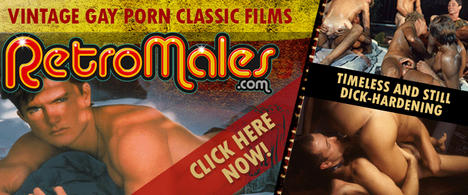 Check Out Our Guys Live On Cam!!
Desirability
Added: Mar 20, 2017 12:40pm
Views: 986
Ratings: 2
Favorited: 0
Records: 2257

Recently Rated