Dirty Boy Video - Sit On My Cock!
Chubbs is horny in his living room and is looking for some much needed relief for his condition. He gets on his favorite hook-up app and starts sending out the invitations to come and sit on his cock. Hans happens to be in the neighborhood when he gets Chubbs' invitation and cock pic. That cock looks too good to pass up so Hans goes for it and pays Chubbs a visit. Hans finds the address and knocks on the door. Chubbs opens up and with a nod and a grin they start making out. There's nothing to say as their animal passion takes over. Hans needs the cock he was promised and gets on his knees to claim his door prize. Hans is not disappointed as Chubbs' big hard chub bounces out of his underwear and into the world. Hans wastes no time and gets to work servicing his new found friend. Chubbs returns the favor with a lick or two on Hans' growing dick before Chubbs pulls the action into the kitchen. Chubbs sits down and lets Hans take over. The little blonde twink deepthroats Chubbs with ease. It slides in and out of his throat with virtually zero gag reflex. Hans can't get enough and Chubbs is ready to pound some ass. They pull the chair out and Hans bends over to take it doggy style. Chubbs rams his big throbbing cock in Hans' tight little asshole as Hans moans out, panting and gasping for air. Chubbs feels good inside Hans and he rides him harder as they change positions to get Chubbs deeper with each and every thrust. Hans' hard dick flops up and down and in circles as he goes to town riding Chubbs. Hans is happy to be filled up with such a nice thick dick and likewise, Chubbs is happy to have such a tight little hole. It's all Hans can take and as he rides up and down on Chubbs, he lets his load go. He leaks at first with a few drops spilling out. His spillage turns into a river and soon a geyser erupts as Hans moans and lets his semen fly. Spurt after spurt of creamy twink juice flies everywhere and gets all over the floor. Chubbs pulls out, happy with the fact that he made Hans cum just by fucking him hard. Chubbs stands up over Hans and lets the twink take over sucking his dick one last time. Hans is good at sucking dick and it doesn't take long for Chubbs to feel the cum welling inside him. He pulls out of Hans' mouth, aims for his target, and shoots to score for the win! Hans is not disappointed with what comes next. Chubbs slathers Hans's face. The cum doesn't stop squirting from Chubbs' big throbbing cock. It keeps squirting and dripping and rolling out like a hose that's stuck in the "on" position. There's cum everywhere! It looks like Hans dumped a big glass of milk all over his head. It drips past his face and chin and onto his shoulders and chest, down to his legs and even shooting up over his head onto the floor behind him! There's no doubt that Chubbs needed some relief and he sure found what he was looking for with his new favorite fuck toy. Chubbs is caught up in the moment, panting and catching his breath. Once he collects his thoughts, he looks at Hans and tells him that he's done with him and to hit the road. Hans gathers up his clothes and heads for the door. He thanks Chubbs and asks if they can see each other again. There's no response from Chubbs so Hans gives a shrug and walks out the door leaving Chubbs alone to scrub down his kitchen.

Check Out Our Guys Live On Cam!!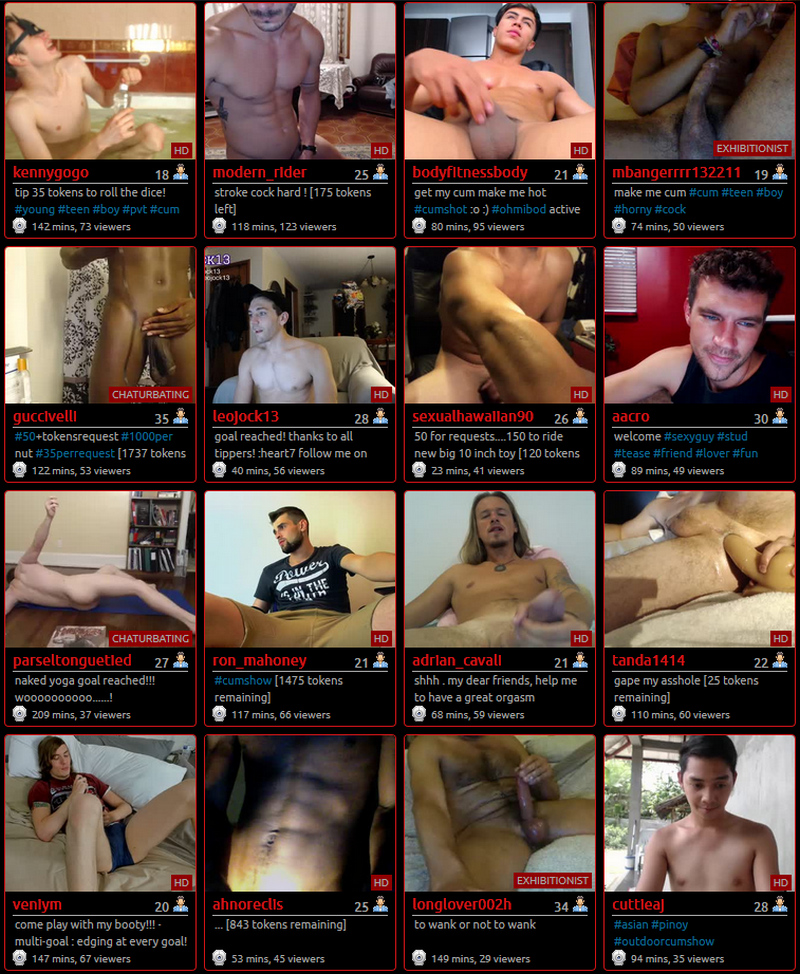 Desirability
Added: Dec 23, 2015 1:14pm
Views: 2,655
Ratings: 46
Favorited: 0
Records: 2257

Recently Rated